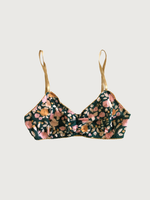 Lowest price in the last 30 days:
Underwire-free, soft, stretchy bralette with elastic trimming.

Bimby & Roy is all about comfort and versatility so their pieces can be worn in bed, in the water or as daily worn undergarments.

Additionally, the stretchy bras are birthing and breastfeeding-friendly. They are fast-drying and can be pulled up or down for nursing, serving as both – practical and beautiful essentials throughout your pregnancy, hospital stay and beyond.

See other prints or matching bottoms here.
Bimbys are beautiful, underwire-free tops suitable for sleep, play & swim. They are not strictly maternity or nursing bras - but because they are so soft (you don't even feel you have them on!) moms all over the world love them especially during pregnancy. 

They do not have any clasps, but are also breastfeeding-friendly due to the stretchy fabric, which can be pulled up or down for nursing.
They are also very popular as birthing bralettes (including water birth) so they will be a great addition to your hospital bag.

Straps are regulated.
Bimby sizing is somewhat flexible due to the stretch of the fabric. View our size guide to choose your size. Please note that the size chart has regular, not pregnancy sizing – if you are currently pregnant or breastfeeding, you may want to go up a size for more comfort.

Due to the stretchy fabric, most women fall between size and both sizes will fit them – it is up to you if you prefer a smaller size for a closer fit or a larger one for more room. Typically, if you are breastfeeding, we recommend wearing a larger size at night for more comfort.
Bimbys are not as thick/lined as the common swim attire, but due to the quick dry nature of the material, they are swim-friendly. We recommend purchasing darker patterned prints if wanting to use them for swim. Like any swim attire, we recommend a rinse after salt water or chlorine.

· Underwire-free
· Regulated straps
· Recycled polyester Spandex
· Machine wash cold on delicate cycle
· Hang to dry, avoid rough surfaces
· Designed in Australia
· Made in Fiji
· Shipping from Poland, Europe with UPS