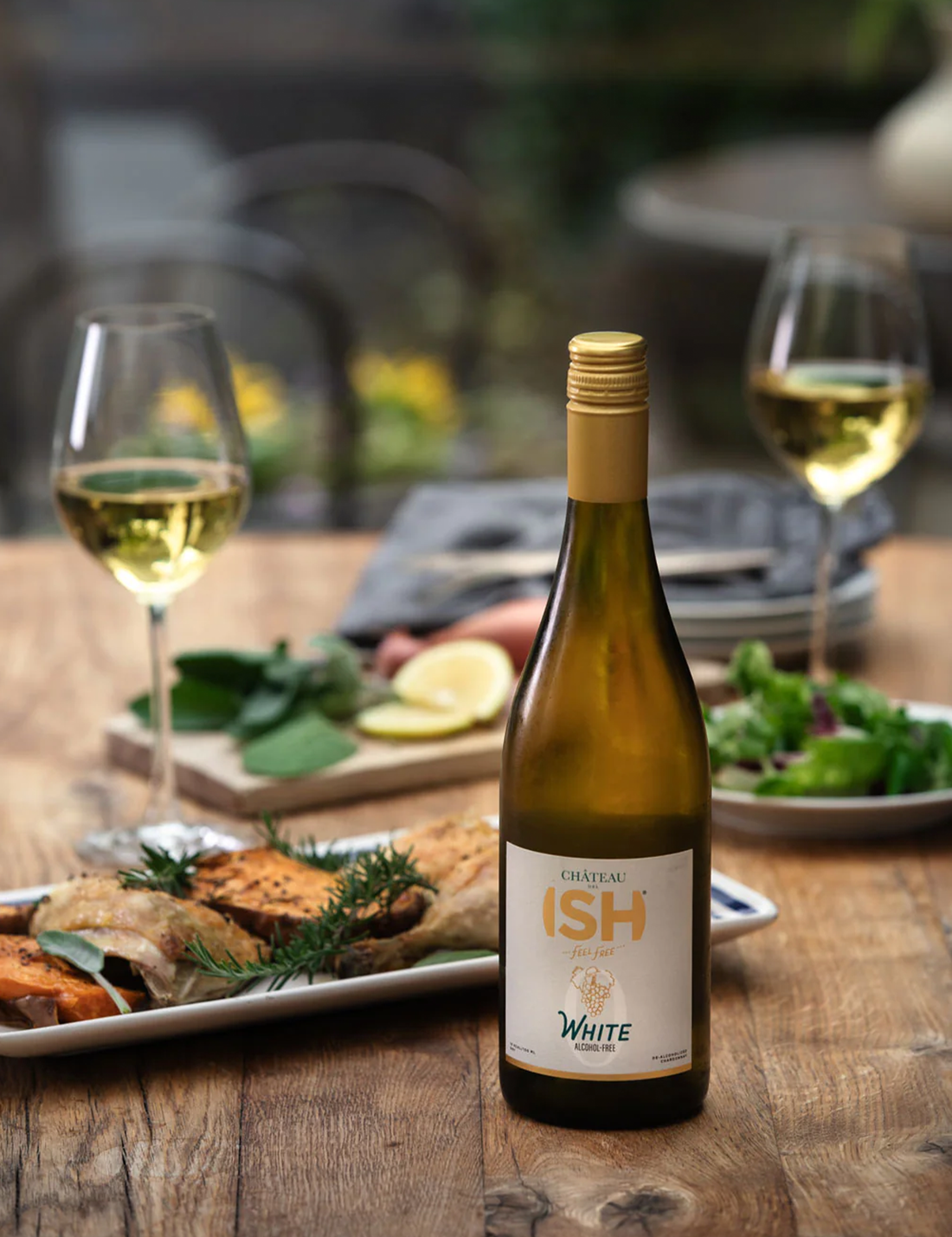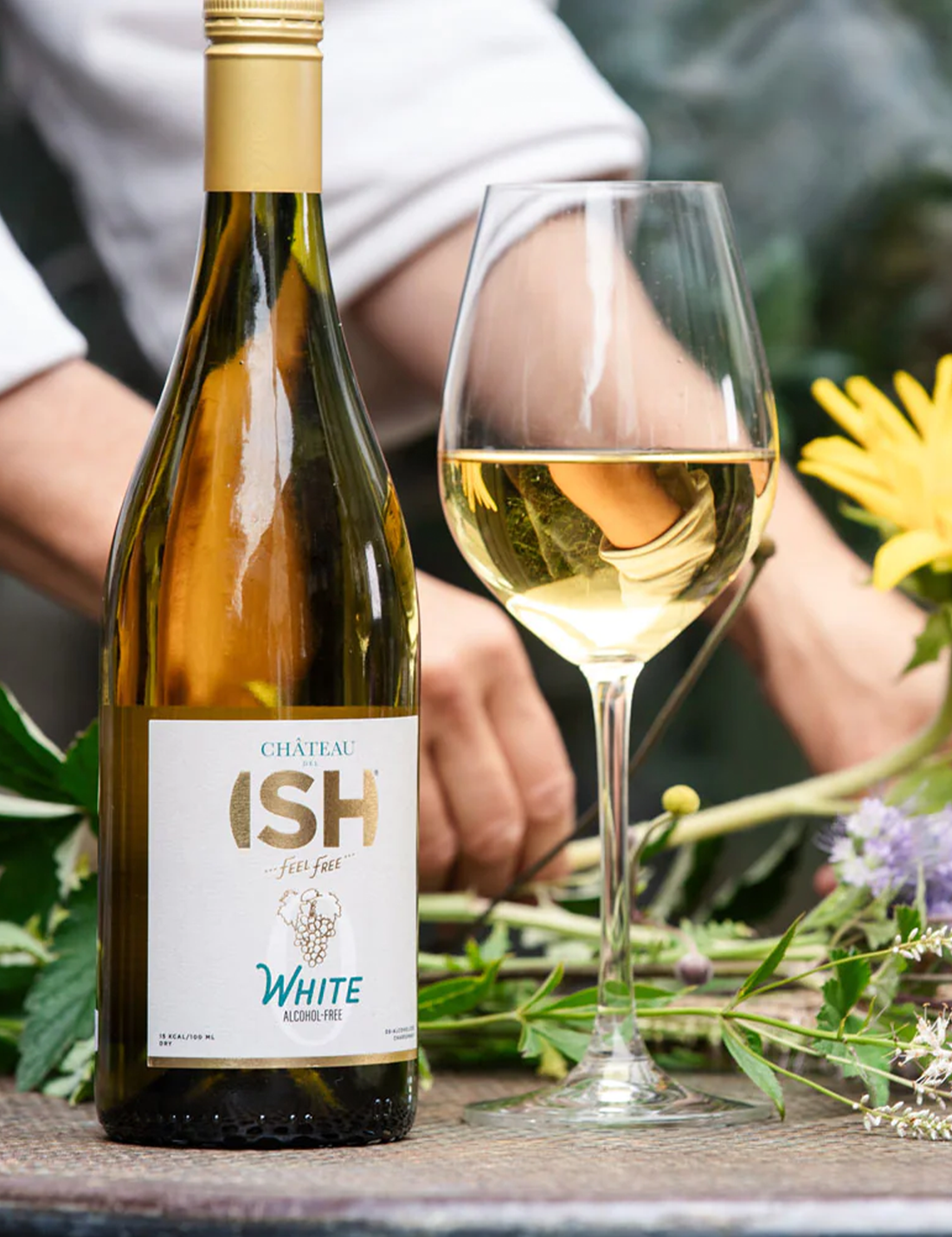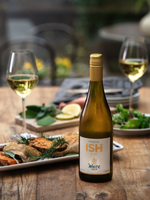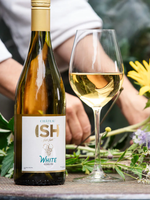 Non-alcoholic Still White Chardonnay 750 ml
A dry non-alcoholic white wine inspired by a classic French Chardonnay with notes of citrus, green apples and pears combined with a nice minerality and slight oak finish.
The process of creating this truly enjoyable non-alcoholic wine starts with fermenting Chardonnay grapes from the Spanish Carinena region in Aragon. The grapes are grown in high elevation, which means that they ripen gradually which preserves the acidity resulting in a more fresh wine. The wine is then gently de-alcoholized, with state-of-the-art techniques that preserve the volatile and precious aromas of the grapes. To create the desired profile the blend is enriched with proprietary wine flavor extract for a deeper and more authentic wine experience.

Pregnancy may mean you can't drink but it doesn't mean you can't be social. Welcome to the mindful world of ISH, where being pregnant, and enjoying a social cocktail is indeed possible. Where diapers and a glass of wine coexist. Where your baby shower comes with raising a celebratory toast.

While the market is being flooded with semi-healthy, very sugary alcohol substitutes which often leave us feeling disappointed, ISH offers a true, unexaggerated replacement for your all-time favourites. With floral notes of citrus, green fruits and french oakwood complemented by a smooth and rich buttery finish, the White Wine presents a flavor that's great paired with meals or just an afternoon glass.

Since it's alcohol-free, pregnant or not – you can go ahead and have that 2 pm glass without raising any eyebrows.
Château del ISH is a range of 0% wines made from traditional grapes, love and nothing else.

· Non-alcoholic white wine (0%)
· Made with Chardonnay grapes (Origin: Spain)
· Profile: Semi-dry
· Sugar: 2.3 g/100 ml (15 kcal/100 ml)
· 750ml bottle, twist cap


CHARACTERISTICS
A dry non-alcoholic white wine with notes of citrus, green apples and pears combined with a nice minerality and slight oak finish.

RECOMMENDED SERVING TEMPERATURE
6-10 degrees celsius

RECOMMENDED FOOD PAIRINGS
Our non-alcoholic white wine pairs nicely with fish and light vegetarian dishes. Can also be enjoyed as an afternoon glass any day of the week. 
 

UNIQUE PROCESS
Though alcohol-free wine has been made for over a century, little has changed in the central aspects of its production. The various processes of removing alcohol all result in a significant loss of flavour and mouthfeel.
After extensive research and development, we have finally found a game-changing breakthrough by the efforts of our trusted wine partner. Using a proprietary process, we are able to extract flavour directly from the wine. We then combine this concentrated flavour with a de-alcoholized wine to create a truly enjoyable non-alcoholic wine.
Using this modular approach, we can deliver a range of alcohol-free wines that are truly satisfying and low in sugar, compared to most non-alcoholic wines on the market today.

INGREDIENTS
De-alcoholized white wine, rectified concentrated grape must, preservative: sulphites